We have been designing and manufacturing various types of trailers and carriers aiming at inside and outside of Japan to adjust each customer's requires of the new age. We will provide our best vehicles for our each customer with complete satisfaction under our own production system.
"Creative thinking and Missions achieved" is the Toyo Trailer's corporate Motto.
We will continually challenge and lead the automobile industry with positive and can-do attitude based on flexible thought and ideas.
We will continue to pursue to produce the high quality vehicles surpassing customers' expectations. We are sincerely looking forward to your continuous patronage and advices.
Company profile
| | |
| --- | --- |
| Established | January 20, 1979 |
| Capital | ¥ 30 million |
| CEO | Kazuyuki Higaki |
| Employees | Approx. 250 persons(including affiliates' employees) |
| Annual sales | ¥ 2.1 billion (FY2015) |
Business line
We support our customers every step speedy and full-heartedly from receiving new orders, delivering goods to doing after-sales services.
With our own follow-up system: receiving orders, production processes, product deliveries and after-sales services, we exert our best effort to satisfy every customer's requirement and support your business to go smoothly.Strengthening the coordination of our departments and sections, every possible improvement provides appropriate solutions and is implemented for all customers to keep their vehicles safety and in full swing.
Business line

Design, manufacture, marketing, alterations, leasing and servicing of various vehicles
Various types of semi-trailers, pole trailers and full trailers
Specific trailers for carrying ultra-heavy cargoes
Specific carriers, yard carriers
Specific fixtures and accessories
Transportation consulting
Applications and other services related to all the above
Office
Head Office|Design center (and marketing and management departments)
3F, NARIKOMA HD,SHIN-OSAKA, 1-4-2, NISHIMIYAHARA,
YODOGAWA-KU, OSAKA, JAPAN
TEL:06-6392-8201
FAX:06-6392-8501
---
Kanto Office
6F, RS BLDG,1-26-9, NISHIAOKI, KAWAGUCHI, SAITAMA, JAPAN
TEL:048-241-5011
FAX:048-252-6691
---
Factories at home and abroad
DALIAN|Manufacture of trailers and carriers
Toyo Trailer (dalian) transportation Equipment Manufacturing Co.,Ltd(100% wholly owned subsidiary)
Jinrong Street NO.120 Economy development Area, Lushun
TEL:86-411-8620-1650
FAX:86-411-8620-1752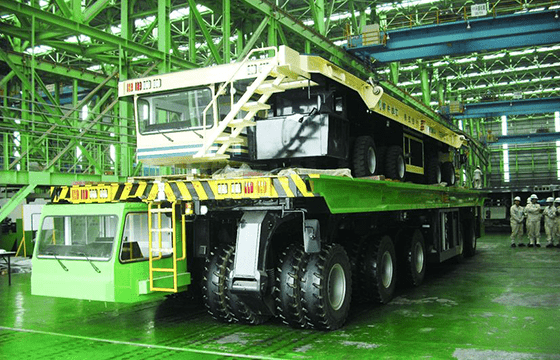 ---
Saijo Factory|Repairs and servicing of trailers and carriers
2-4, HIUCHI, SAIJO, EHIME , JAPAN
TEL:0897-58-3311
FAX:0897-53-7177
---